Partnering with special guest speaker Manasa Ranginani, MBBS, MPH, Clinical Documentation Improvement (CDI) Manager at Boca Raton Regional Hospital, ECLAT's team of experts tackled a perennial healthcare challenge: Congestive Heart Failure (CHF) Coding and Documentation. Selected from popular audience submissions, this topic is front of mind for many in healthcare as it is difficult to overestimate the impact of one of medicine's most prevalent readmitted conditions (26.9% readmissions) and the loss in medicare reimbursements it causes. Not only is heart disease the leading cause of death for Americans 65 and older, but 42% of medicare beneficiaries in this range have at least one heart condition. Further, the recent shift in focus towards Social Determinants of Health (SDoH) has reframed the conversation in an equity perspective. Mitigating SDoH risk is actually a key method of ensuring more positive outcomes for patients with CHF.
The Financial Impact of CHF
Before delving into a complete clinical breakdown of CHF, speaker Marie Thomas, MHA, RHIT, CCS, CCDS, COC, VP Revenue Cycle Operations, laid out in stark figures just how costly this condition really is. Looking at the issue from a purely fiscal standpoint, heart disease (excluding strokes) is one of the most expensive health problems and reached an astounding $281 billion in 2015, and that figure may double by the year 2035. Marie explained that the cost of caring for a patient almost doubles when they have a single heart condition, from approximately $9,000 to around $18,000 according to the Centers for Medicare and Medicaid Services (CMS)1.
A Clinical Overview of Congestive Heart Failure
To continue creating a holistic understanding of Congestive Heart Failure, speaker Manasa gave a detailed clinical analysis of CHF. She detailed the two kinds of heart failure, Systolic and Diastolic, the specific breakdowns that cause them, and why labeling these as Left and Right Sided Heart Failure doesn't fully capture their nature. Manasa further expounded on the telltale symptoms and signs that can indicate a CHF diagnosis is appropriate.
As we can no longer code systolic and diastolic dysfunction, Marie established the importance of a physician linking the type of heart disfunction to the patient's CHF. If they do not, the code left available to the coder is I50.9. However, she further identified this code for Heart Failure: Unspecified as one that probably should not be left its non specific state, but is a flag for potential queries and requests for information to further clarify the state of the heart failure.
Who Is At Risk For Congestive Heart Failure?
Just as the symptoms of Congestive Heart Failure are recognizable, so too are many of its contributing factors. The next stage of Manasa's overview involved a breakdown of what lifestyle choices and medical attributes put a person at greater risk of a CHF diagnosis. Of the risk factors she detailed, many are easily preventable with a healthy lifestyle. However, heart failure cannot be completely eradicated through healthier choices alone. Still, the risks can be reduced, and our experts outlined both how patients can introduce prevention into their daily life choices and how hospitals can help mitigate the risks. Addressing this issue from both sides, the healthcare system can reduce the national average LOS from 6.2 days closer to the benchmark of 4.5 days.
Diagnosing CHF
With a clinical breakdown and knowledge of the associated risk factors established, we then addressed just how a physician assigns a CHF diagnosis as well as how to effectively treat the condition's short term symptoms and long term health impact.
With the condition diagnosed and the treatments begun, how do physicians approach CHF from a coding perspective? Further, how does a coder address the relationship between heart involvement and hypertension? Manasa and our experts explained this in great depth, utilizing several case study examples. Further, Manasa goes into details on physician documentation and querying tips to establish coding accuracy, including the example below:
Physician Query Example:
​​Clinical Indicators and/or Treatment: 80 yo M was admitted with SOB, CHF, Afib, and diabetes. Assessment/Plan-"Did receive furosemide IV in the emergency department cardiology consulted"
Impression: "History of heart failure with preserved ejection fraction syndrome." Assessment/Plan: "CHF (congestive heart failure) Received dose of furosemide in the emergency department with excellent diuresis. Resume torsemide continue spironolactone. Preserved systolic function history of PCI mitral valve clip x2 ASD repair"
Discharge Diagnoses: "CHF (congestive heart failure)"
proBNP: 3,092 (6/29/21)
ECHO: EF = 60-65%. LVH/BAE. Moderate MR and mild TR. (4/17/21)
Treatment/Monitoring: IV Furosemide, PO Atorvastatin, PO Metoprolol, PO Spironolactone, PO Torsemide, PO Verapamil, Consistent Carbohydrate Diet.
"CHF" has been documented in the medical record. If possible, can the diagnosis be further clarified by the following?
Acuity of CHF- [ ] Acute [ ] Acute on Chronic [ ] Chronic
Type of CHF- [ ] Systolic [ ] Diastolic [ ] Combined
[ ] Other explanation of clinical findings-_____________________________________
[ ] Clinically undeterminable.
CHF Health Equity
Like many common medical issues, Congestive Heart Failure is a part of the greater health equity discussion. One of the most subtle, but critical risk factors to identify truly is a patient's contributing Social Determinants of Health, a thorough breakdown of which can be found in our previous webinar roundup blog. These include data about in what conditions the patient lives, if they have easy access to transportation, can they afford their medication, etc. Of all the SDoH factors affecting patient health, Marie and Manasa agree that the most impactful is non-compliance with medication regimens. This is true statistically and is also observed by clinicians on the front lines of health.
In the webinar, our team further details how, once identified with a trusted auditor like ECLAT Health Solutions, these factors can be easily addressed. The solutions are as numerous as they are readily available.
Poll Questions
Throughout the webinar, several audience polls were conducted as we worked through physician queries and case studies together.
Poll Question #1:
Physician Queries
Clinical Indicators and/or Treatment: 89 yo M was admitted with syncope, aortic stenosis, dyslipidemia, history of CHF, and CKD.
Impressions: "Syncope Complete heart block Severe aortic stenosis status post TAVR Systolic congestive heart failure Hypertension Hyperlipidemia"
Impressions: "Syncope w/ facial trauma s/p recent TAVR, noted w/ bradycardia s/p PPM now w/ intermittent VT hypertension dyslipidemia chronic kidney disease"
ECHO: LVEF:40-45%. Moderate concentric LVH. Moderate, diffuse hypokinesis of the LV is present. Moderate MR, trace PR, and mild TR. Well seated bioprosthetic TAVR valve. (7/3/21)
Treatment: IV Hydralazine, IV Phenylephrine, PO Metoprolol, PO Spironolactone, PO Bumetanide, PO Atorvastatin.
Results:
Answer:
While the general audience consensus was to query for both acuity and type of heart failure, the case study did explain that the patient had systolic heart failure, eliminating the need to query for the type. Therefore, only the acuity of heart failure should be queried.
---
Poll Question #2:
Case Study #5:
71-year-old male with a past medical history of COPD, hypertension, BPH, hyperlipidemia presents to the hospital with shortness of breath. His predominant symptom was shortness of breath, associated with a mild cough. He otherwise denies any frank fevers, chills, chest pain, overt sputum production. He did note that he had mild swelling in his lower extremities. In the ED, the patient was considered to have pneumonia and given IV fluids and antibiotics. With the IV fluids the patient status worsened, IV fluids were stopped, patient was given Lasix. Labs remarkable for a WBC of 13.88, BNP 1123, c-reactive protein 7.02 and procalcitonin of 0.21. On exam, the patient was noted to have 2+ BLE edema. Patient was initially treated with BiPAP and improved with antibiotics and diuretics. Patient was DC home with O2, po abx, po diuretic and weaning steroids

Initial chest x-ray noted interstitial edema with multifocal pneumonia, pneumonia slightly decreased in left midlung zone. Follow-up chest x-rays were clear without focal opacity or edema. ECHO noted Left ventricle: The cavity size is normal. Wall thickness is mildly increased. Systolic function is normal. The estimated ejection fraction is 55-60%. Wall motion is normal; there are no regional wall motion abnormalities. Left atrium: The atrium is mildly dilated
Coded Response:
I130 Hypertensive heart and chronic kidney disease

J189 Pneumonia, unspecified organism (MCC)

J9611 Chronic respiratory failure with hypoxia (CC)

N179 Acute kidney failure, unspecified (CC)

N184 Chronic kidney disease, stage 4 (severe) (CC)

I509 Heart failure

MS DRG 291 Heart failure and shock with MCC

APR DRG 194 Heart Failure

SOI/ROM 4/4
Results: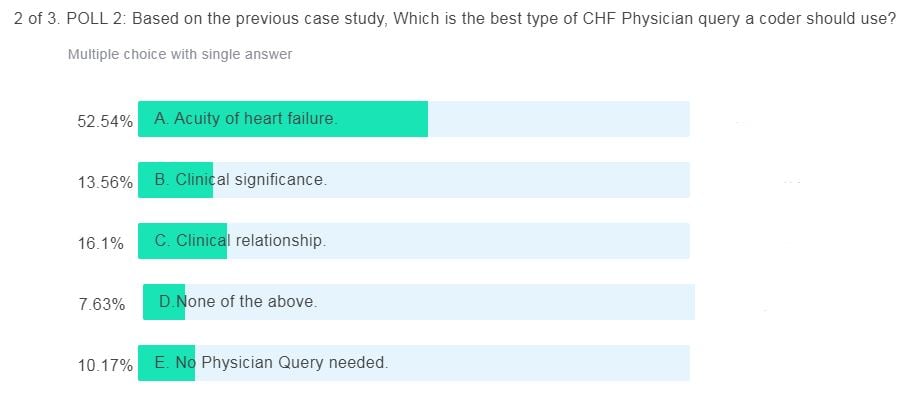 Answer:
Audience consensus in this poll was to query for the acuity of heart failure, which is the correct way to move forward in these circumstances. Further, we can likely also query for the specific type of heart failure.
---
Poll Question #3:
Case Study #6:
This is a 37-year-old female with a past medical history of vertigo, developmental delay (DiGeorge's Syndrome), IBS, HTN and GERD who presents to the hospital for edema. The patient was noted to have worsening lower extremity edema as well as abdominal distention for the past week or so along with increased fatigue. On admission, the patient was noted to have a BNP in 2000s, creatinine of 1.38 and EF of 40-45%. The initial chest x-ray noted an enlarged heart with mild increase in pulmonary vascularity.
The ECHO noted:
Left ventricle: Cavity size is normal, Wall thickness normal, Systolic function is mildly to moderately reduced, EF of 40-45%, moderate diffuse hypokinesis; Study not technically sufficient to evaluate LV diastolic function
Right ventricle: cavity size is moderately to markedly increased, Wall thickness is normal, Systolic function is moderately to markedly reduced. TAPSE 1.2, Systolic pressure is markedly increased. 90mmHG.
Right atrium: moderately dilated, Mitral valve: Moderate regurgitation, Aortic valve: Moderate regurgitation, Tricuspid valve: mild to moderate regurgitation
The patient was given Aldactone and Lasix, without adequate diuresis after 1 day of treatment, with a rise in the patient's Creatinine. The patient's congenital heart team was consulted, and the patient was transferred to another facility for a higher level of care.
Coded Response:
130 Hypertensive heart and chronic kidney disease

I5023 Acute on chronic systolic (congestive) heart failure (MCC)

D821 DiGeorge's Syndrome (CC)

N179 Acute kidney failure (CC)

MS DRG 291 Heart failure and shock with MCC

APR DRG 194 Heart Failure

SOI/ROM 4/4
Results: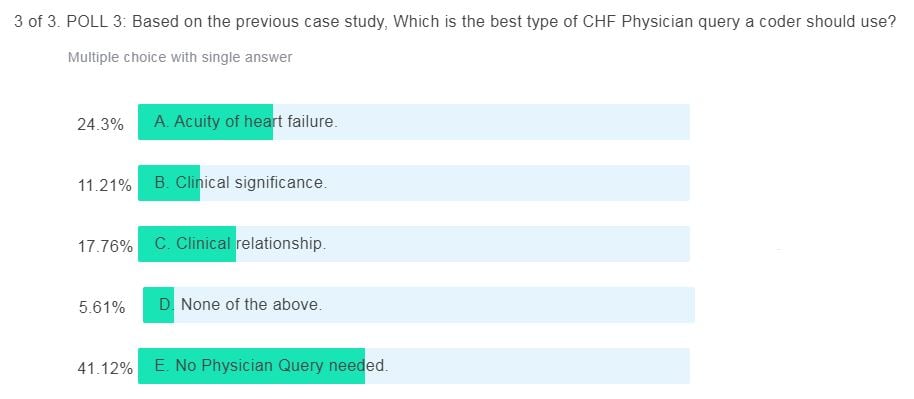 Answer:
In this poll, the audience generally concluded that no physician query and votes for each specific query were fairly low and even across the board. Our team recommended a clinical relationship query to establish if the patient's CHF is due to hypertension and chronic kidney disease or to her DiGeorge's Syndrome.
Q&A
The audience was extremely interactive, and many questions still remained at the close of the time slot. If you asked a question and are still awaiting the answer or if you want to learn more about CHF and what your peers want to know, read below for viewer questions answered by our experts:
Question #1:
For Polling Question-1 - History of systolic CHF - The answer was to place query for acuity of CHF. Can we consider a history of systolic CHF as chronic per AHA coding clinic, 2003?
Answer:
The circumstances of the admission also need to be taken into account. The history of CHF is chronic, but if we are giving the patient IV diuretics to treat it and that's the reason for their admission, then we might need to query to see if they have acute and chronic right now.
Question #2:
Is there a difference in causes and risks between systolic and diastolic heart failure?
Answer:
Conditions which directly affect the heart muscle like myocardial infarction would likely cause systolic heart failure. With increasing age or with HTN when the ventricles become stiff this leads to diastolic heart failure. Again it is helpful to think of the heart as a functional unit and systolic and diastolic heart failure are in the spectrum of the same disease.
Question #3:
Is medical or surgical treatment for CHF used more often?
Answer:
Medical management of symptoms are most often used, when there is diuretic resistance or other need for surgery to assist in management of CHF symptoms such as aortic stenosis, treated with TAVR, then a surgical treatment may be used.
Question #4:
Is the assumed link between hypertension and heart involvement always accurate? Does it sometimes need to be changed?
Answer:
When the physician does not explicitly link a condition to the heart condition, the guideline instructs coders to assume a link. When a condition is present such as a congenital heart condition or alcoholic cardiomyopathy as well as hypertension, and no link is made, then a query may be needed to clarify the relationship. Was it the hypertension related to the heart condition or was it the congenital heart condition or the alcoholic cardiomayopathy?
Question #5:
In your opinion, what Social Determinant of Health is the biggest contributor to CHF?
Answer:
During out investigation, the biggest contributor is noncompliance with medication.
Question #6:
Do we need to assume combination codes when HTN and CAD are documented?
Answer:
We can't assume a relationship between HTN and CAD. In the ICD-10 tabular under category I11, there's an includes note stating "any condition in I50.- (heart failure codes) or I51.4-I51.7 (myocarditis, unspecified; myocardial degeneration; cardiomegaly), I51.89 (other ill-defined heart diseases), I51.9 (heart disease, unspecified) due to hypertension Coding Guideline Section I.C.9.a.1 Hypertension with Heart Disease also explains the presumed causal relationship between hypertension and heart involvement specific to the above code classification. CAD (coronary artery disease) falls under category I25 therefore we can't assume a combination code when HTN and CAD are documented.2
Question #7:
How is HTN coded with Hx of CHF i?
Answer:
Typically CHF is not a disease process that can be "cured", care and treatment is given to relieve symptoms and slow any potential damage due to CHF. If we see "history of CHF" with documentation of treatment with diuretics or a procedure to assist with CHF management, we would have an opportunity to query to clarify a history of CHF vs. a chronic type of CHF. If the query is responded to as history of CHF with no chronic element, I10 for hypertension would be appropriate.2
Question #8:
Do you have any suggestions on how to start a program encouraging our facility physicians to document CHF types and acuity?
Answer:
To get physician buy-in and encourage physicians to document CHF type and acuity it might be helpful to consider the following- (a.) Start with the specialists that is the cardiologists. As they set a standard in the documentation and frequently consult for CHF. (b.) Focus on quality, physicians will recognize the importance of documenting CHF type and acuity when we focus on quality metrics particularly CORE measures and CMI. (c.) Make it a team effort, involve different care members in the program including case managers, nurses, and residents.
Question #9:
In Case Study #1, Why would we report the NSTEMI and the CTO? Per coding edits, I21.4 and I25.82 are excludes 1 codes.
Answer:
With the NSTEMI, a left heart cath revealed severe ischemic cardiomyopothy, left ventricular ejection fraction at 10%, and severe CAD with diffuse 99% disease in the LAD. The LAD was our culprit lesion for our NSTEMI. The patient has chronic total occlusion of the left circumflex and the RCA systems. Given this information, we can override the excludes 1 because that is not our culprit lesion. That's the reason we coded I21.4 and I25.82. We override an excludes 1 when they are not related, and that is how we took this particular aspect.
Question #10:
Case Study 2 - Was the S&D linked with the CHF?
Answer:
In this example we have the acute and chronic biventricular systolic and diastolic disfunction with decompensated heart failure. In this case it was linked.
Question #11:
When the EF is between 40-50%, our doctors like to chart "HF with marginal EF," which of course doesn't have a code. How should this be queried?
Answer:
As HF with marginal ejection fraction does not code to anything, it is important to take a holistic view of the clinical presentation and patient profile. We should also note the risk factors, treatment, and focus of care while we are drafting the query. Sometimes physicians might compare current ejection fraction with the patient's ejection fraction from the past to help ascertain the type of heart failure.
Conclusion
As an interactive series, upon its conclusion, installments of the Experience The Brilliance Webinar Series open into a Live Q&A forum, wherein our experts and guest speaker Manasa answered audience questions about Congestive Heart Failure (CHF) Coding and Documentation.
If you missed out on the LIVE session or would like to revisit the case studies or any other information, watch the webinar replay here:
To be notified of upcoming quarterly webinars and to receive early registration access, subscribe here.
Congestive Heart Failure and other topics discussed across the Experience The Brilliance series are chosen from popular audience submissions. Make your voice heard by submitting a topic here.
---
References:
1https://www.cms.gov/Research-Statistics-Data-and-Systems/Research/MCBS/Downloads/HeartConditions_DataBrief_2017.pdf | Centers for Medicare & Medicaid Services
2https://www.cms.gov/files/document/fy-2022-icd-10-cm-coding-guidelines.pdf| FY 2022 Coding Guidelines