The experts at ECLAT Health Solutions were excited to look into the new year and guide the Experience The Brilliance audience through one of the most crucial subjects to date - FY 2022 Coding Updates: Determining the Principal Diagnosis. Mastering these changes is both vital and time-sensitive to coding teams across the nation as the first round of updates has already taken effect as of October 1st and more are pending over the next several months.
Since coding updates can impact both how we are reimbursed and how we maintain compliance, it's no wonder that this subject elicited a surge of audience topic requests.
How Prepared is Your Team for Coding Updates?
To give the audience a pulse on where their readiness stands compared to the industry as a whole, attendees were polled upon registration about how prepared their team is for the new updates. The results below were shared in the webinar.
A resounding plurality of this diverse crosssection of the healthcare industry had begun team training and education for these updates but had yet to complete it. About 15% of those polled have completed preparations for the upcoming changes, and for approximately 12% of the audience, training had yet to begin at the time the poll was taken.
Coding Resources - An Industry Pulse
During the webinar, the audience responded to another question to give attendees the pulse of their industry peers: As the focus of the Revenue Cycle shifts to overall documentation and coding quality, not just reimbursement, is your department or facility prepared with the resources needed? Their response was striking.
While just over half of respondents indicated that they are fully staffed and with all of the coding resources they need, almost half said that that's not the case in their department/facility.
Reduced staffing levels and coding resources can disrupt your revenue cycle, creating bottlenecks that lead to costly errors and delays. If you're facing these issues, you are not alone.
ECLAT's teams are ready to expand your capacity with supplemental or fully outsourced projects. Enter 2022 with confidence and the resources to maintain steady reimbursement workflows. Click below to explore how we can revitalize your revenue cycle with coding solutions.
Medical Coding Update Timetable
Before deep-diving into specific changes and how to compensate for them, subject matter expert, Marie Thomas - ECLAT's Vice President of Revenue Cycle Operations - highlights the coding update schedule per Centers for Medicare and Medicaid Services (CMS) website will be adhering to. To streamline the update process, CMS is implementing a regular schedule to make the changes predictable. Going forward, updates will occur biyearly on the 1sts of April and October.
However, CMS updates aren't the only ones that will impact your workflows. CPT changes are also being enacted on January 1st, 2022.
New ICD-10 Codes and Guidelines for 2022
It's important to note that the changes are not an exhaustive overhaul of the coding system. Rather, the new updates that our team outlined which include coding files, guidelines and advice to bring further clarity and specificity to the coding process.
ECLAT's experts explored these changes to the ICD-10 coding structure with numerous examples and case studies. Due to the prevalence of the condition, coding for depression was one of the most notable. Code F32 is being revised from "Major Depression" to "Depressive Episode." Further, a coder can no longer assume major depression as the default but now must code F32.A "Depression, Unspecified" unless further clarification is given. ECLAT's experts explored this change with case studies for clarity and application:
Case Study:
Patient is a 45-year-old female brought by husband for acute intoxication with a blood alcohol level of 487. Has had a lot of marital stress--husband has "temper problem" and frequently yells at her when angry. Patient has dealt with stress by drinking more and lately has been drinking in the mornings to control shaking.
Assessment:
Axis I: alcohol dependence with acute alcohol intoxication; depression NOS; anxiety NOS
Axis II: Deferred
Axis III: none
Axis IV: other psychosocial or environmental problems and problems related to social environment
Axis V: 41-50 symptoms.
F10229 Alcohol dependence with intoxication, unspecified
F32A Depression, unspecified
F419 Anxiety disorder, unspecified
Y908 Blood alcohol level of 240 mg/100 ml or more
Z630 Problems in relationship with spouse or partner
As wide as this change reaches, it is far from the only update being applied. For example, a new code (I5A) was introduced to expand the clinicians' specificity in defining myocardial injury. This code allows them to distinguish between Non-ischemic (Non-traumatic) MI and its other subsets.
Our experts prepared the following case study for further exploration:
Case Study:
This 56-year-old male with known history of CAD presented with chest pain and troponin of 0.04, 0.07, 1.0. The patient was taken to the cardiac cath lab and left heart cath revealed no change from the 2019 cath, known CAD stable, no evidence of ischemia. The patient has been under a great deal of stress and grief, recently losing her mother to cancer. The patient was seen in consultation by cardiology and follow-up is scheduled as outpatient. The troponins trended down, the patient was placed on a statin regimen and will follow with cardiology. Final diagnosis is given as non-ischemic myocardial injury.
I5A non-ischemic myocardial injury
F43.29 stress reaction with grief
I25.10 CAD
4A023N7, B2011ZZ LHC
MSDRG 287 APR 192
REL WT 1.1151
SOI ROM 1/1
Code first the underlying cause…Excludes 1 AMI
COVID-19 Coding Updates
COVID-19 is still top of mind and a primary concern for providers nationwide. Related coding guidelines are still changing and, as the pandemic progresses, new codes are developed.
One such code is U09.9 for "Post COVID-19 Condition, Unspecified." Also known as "Long COVID," this code was created to indicate long-term effects still felt by someone who is no longer actively infected. Our team further clarified that the code Z86.16 is to be used to define a 'personal history of COVID,' applicable to patients once all symptoms have faded.
We also elaborated on how to define when and how to code for the simultaneous presence of symptoms from two COVID infections, one present and one previous.
- AHA Coding Updates 20221
New Codes - Substances and Technologies
New codes have also been added to document new substances and medical technologies being utilized.

- AHA Coding Updates 20221
Coding

Guideline B4.1c

- Audience Feedback and our Clarification

as of Dec 11, 2021.
Some of these new developments are still settling and clarifications are being made. During the webinar, our team discussed the practices for coding procedures performed on a tubular body part. Previously, the procedure would be coded based on whichever section of the anatomical structure is furthest from the point of entry, but now the procedure will be coded on what part of the structure is closest to the heart.
Presently, the written Coding guideline states this change applies to tubular bodies without further qualification given, and that is how the information was presented during the webinar.

However, following this presentation, we noted members of our audience submitted the following chats regarding a verbal response made by AHA's Director of Coding and Classification, Nelly Leon-Chisen, RHIA when asked for further clarification during a Q&A session of the organization's webinar about the updates. The 2 chats we received from our audience are shared below:
Regarding slides 15-21, on the 9/17/2021 AHA webinar for Guideline B4.1c, Nelly Leon-Chism clarified verbally that the guideline only applies to cardiovascular body parts. It does not apply to every body system.
+
in a presentation from Leon Nelly Chisen with AHA, stated the B4.1c guideline is only supposed to be applied to vascular system and not other systems such as GI, respiratory etc
**Nelly Leon-Chisen
We understand that during this period, she [Ms. Chisen] verbally expressed that this change should specifically be applied to cardiovascular systems and not to all tubular bodies.
However, we must note that this was a verbal response that doesn't yet appear to be reflected in the coding guidelines.
In search of coding clarification, please know that ECLAT's team has reached out to AHA Coding Clinic for further confirmation in writing and hopes to settle this urgent matter as soon as possible. Our request is currently under review, and we will share the answer with all webinar subscribers once received.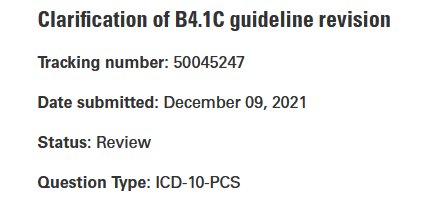 Until we receive a published answer, our experts recommend speaking with your team and determining a uniform guideline for your facility.
CPT Changes for 2022
ICD-10 isn't the only structure that outlines how we document and reimburse medical encounters. In between the 6-month gap spanning ICD-10 updates, CPT is also implementing updates effective January 1st. There are 405 new changes encompassing new codes, deletions, and revisions. Almost half of the new codes are Technology Category III. Another 15 of them are related to COVID vaccinations and include a unique code for each of the first two doses of each company's vaccine.
ICD-11 Changes for 2022
Updates are also coming to ICD-11. It's important to note two things: the incoming coding structure incorporates 4-times its predecessor's code volume, and ICD-10 took 23 years to implement across the country. Therefore, preparing for these changes now is a vital component to ensuring your continuing financial stability and future success.
While adapting to changes made to this new coding scheme may be intimidating, ICD-11 was built upon prior ICD updates. The Experience The Brilliance experts expounded on the various aspects of this structure including its conventions, inclusions and exclusions. More information can be found in the webinar replay below, but key takeaways include our breakdown of the coding structure here:
2.2.1 Code structure
The codes of ICD–11 are alphanumeric and cover the range from 1A00.00 to ZZ9Z.ZZ. Codes starting with 'X' indicate an extension code (see 1.2.4.2 Extension codes). The inclusion of a forced number at the 3rd character position prevents spelling 'undesirable words'. The letters 'O' and 'I' are omitted to prevent confusion with the numbers '0' and '1'. Technically, the coding scheme would be described as below:
ED1E.EE
E corresponds to a 'base 34 number' (0-9 and A-Z; excluding O, I);
D corresponds to 'base 24 number' (A-Z; excluding O, I); and
1 corresponds to the 'base 10 integers' (0-9)
The first E starts with '1' and is allocated for the chapter. (i.e. 1 is for the first chapter, 2: chapter 2, … A chapter 10, etc.)
The terminal letter Y is reserved for the residual category 'other specified' and the terminal letter 'Z' is reserved for the residual category 'unspecified'. For the chapters that have more than 240 blocks, 'F' ('other specified') and 'G' ('unspecified') are also used to indicate residual categories (due to problems with the coding space).
Chapters are indicated by the first character. For example, 1A00 is a code in chapter 1, and BA00 is a code in chapter 11.
Blocks are not coded within this code structure – each has its own. However, hierarchical relations are retained in the 4-digit codes. There is unused coding space allocated in all blocks to allow for later updates and to keep the codes stable.
Determining the Principal Diagnosis (PDx)
While guiding the audience through updates to coding guidelines is timely, crucial and highly requested by your peers, it is not the only prevalent concern facing coders. Of equal importance is determining the Principal Diagnosis (PDx) and how its proper selection can impact how each visit/admission is coded for reimbursement.
It is important to define PDx clearly as it has slightly different connotations depending on if the context is an inpatient or outpatient setting. In an inpatient setting, it can be defined as:
"that condition established after study to be chiefly responsible for occasioning the admission of the patient to the hospital for care"
- Uniform Hospital Discharge Data Set (UHDDS)4
For outpatient encounters, the circumstances are slightly different. Outpatient PDx can be defined as
Code first the reason for the encounter, treatment or surgical procedure.
While similar in both meaning and wording, the key distinction lies in the settings themselves. An outpatient PDx is what triggered the encounter while an inpatient PDx is the factor that caused the encounter to escalate into an admission.
Ensuring a correct PDx is a critical point for all stakeholders that have broad-reaching effects. Chiefly, PDx is the single most changed code in third-party audits and it defines the entire subsequent coding structure. This means that, in order to achieve the most optimal reimbursements and the highest levels of compliance, the accuracy of the determined PDx is vital.
For example, Marie presented a single case study in 3 parts that explore how coding evolves as the PDx is defined with greater and greater specificity. While a full exploration with additional, step-by-step expert analysis can be found in the replay, the synopsis below shows how even a marginally different PDx can greatly affect the subsequent coding structure and define a completely different reimbursement.
PDx #1:
PDX: K28.4 GJ erosion with bleed
DRG 378 GI hemorrhage with CC
REL WT .9935
SOI 2 ROM 1
----------
PDx #2:
PDX: D68.32 Hemorrhagic d/o due to anticoag.
DRG 813 Coagulation Disorders
REL WT 1.5451
SOI 1 ROM 1
----------
PDx #3:
PDX: D62 Acute blood loss Anemia
DRG 811 Anemia
REL WT 1.3793
SOI 2 ROM 1
As discussed by our experts, sometimes more than one diagnosis can seem appropriate. ECLAT's Experience The Brilliance team created a simple best practices guide and decision tree to help you determine the correct principal diagnosis.
Conclusion:
If you missed out on the LIVE virtual learning event, would like to revisit the case studies, or listen in more detail to any of the information discussed, the webinar replay and handout are available here:
If your team is preparing for FY 2022 Coding updates, let ECLAT secure your workflows and guide you on the smoothest path into the new year. Click below to schedule a time to speak to our team.
References
1AMA CPT updates 2022
2CMS - FY 2022 Official Coding Guidelines
4Uniform Hospital Discharge Data Set (UHDDS)