As revenue cycle management, medical coding, and clinical documentation improvement professionals, the topic of acute and chronic respiratory failure is something that comes across our clients' screens regularly. It is a very unique health issue that many don't fully understand, and that can be difficult to document. Because of its distinctive properties, and popular audience request, we felt it was a topic that needed some discussion. That is why we chose this quarter's webinar topic from our "Experience the Brilliance" webinar series to explore respiratory failure from a clinical perspective. Joined by ECLAT's Senior Director of Coding and HIM Operations, Marie Thomas, and clinical care physician, Krishna Thandra, MD, we discussed the basics of respiratory failure, how it is viewed from a clinical perspective, and how to identify and document it from a medical coding perspective.
2018-07-31 13.00 Exploring Respiratory Failure - A Clinical Perspective from Giovanna Govea on Vimeo.
Exploring Respiratory Failure - A Clinical Perspective from Giovanna Govea on Vimeo.
The Clinical Perspective
First, the MC of the webinar, Giovanna Govea of ECLAT Health Solutions, defined respiratory failure before introducing Dr. Krishna Thandra to offer a clinical perspective. According to the late Robert S. Gold, MD, "respiratory failure basically means that the lungs cannot meet the needs of the body to supply oxygen and remove carbon dioxide." In clinical trials, signs of respiratory failure include increased respiratory rate, increased burden of oxygen, decreased oxygen levels, and increased carbon dioxide levels.
When someone experiences respiratory failure, there are some key physiological changes that occur:
Impacts the heart because of the lower oxygen level
Cor pulmonale may occur with right-sided heart enlargement
The liver may become enlarged/engorged, swelling of LE or UE, irregular rhythm
Risk of blood clots
As Dr. Thandra discussed,
The Medical Coding Perspective
Identifying respiratory failure quickly and properly is imperative to a patient's health. After a respiratory failure is identified by a physician, the clinical documentation is the next important step in the process. The clinical perspective helps us to better distinguish clinical criteria for acute vs. chronic respiratory failure and to identify the correct medical coding assignment for respiratory failure cases. There are 3 important sets of criteria for identifying acute respiratory failure, as outlined in the webinar by Marie Thomas, Senior Director of Coding and HIM Operations, all of which can be found on pages 7-9 of the webinar handout. It is important to look closely at these criteria, as some distinctions are vital to identify in order to document the condition properly.
What happens if a patient is admitted with respiratory failure and another acute condition? The principal diagnosis depends on the individual patient's situation and what caused the admission of the patient to the hospital. This coding guideline applies regardless of whether the other acute condition is a respiratory or non-respiratory condition. If the documentation is unclear, the physician should clarify which of the two conditions was the reason for admission. In some cases, both conditions may be equally responsible for the admission, just make sure that the severity of illness and intensity of service are equivalent for both.
Case Study and Poll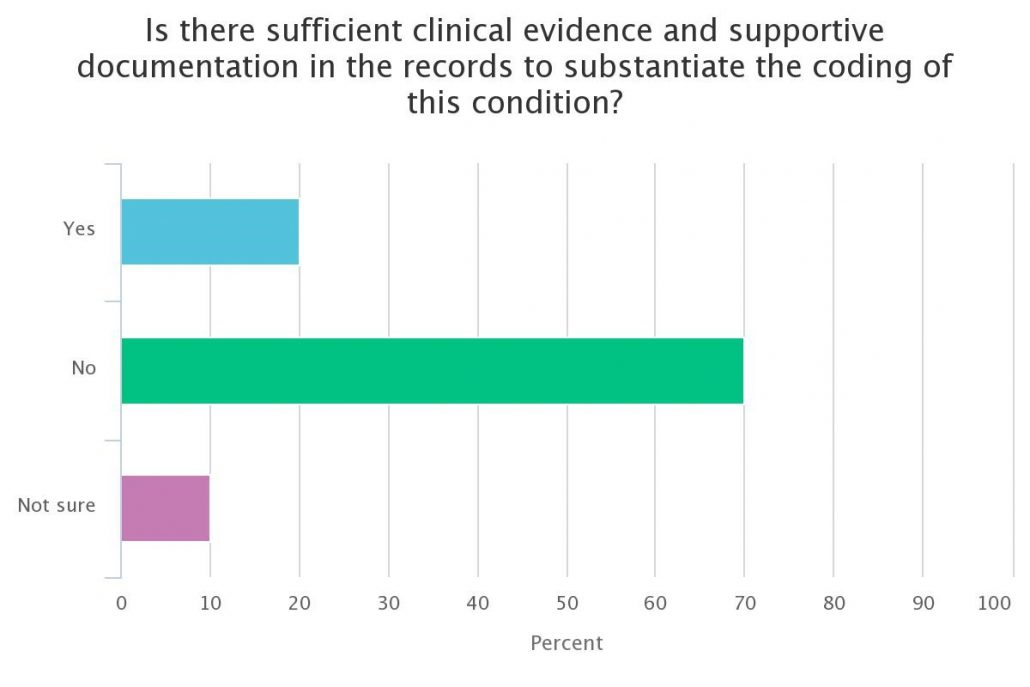 After reviewing respiratory failure from clinical and coding perspectives, Marie walked the webinar attendees through a case study followed by a question. To view the case study and see if the audience answered correctly, be sure to watch the webinar replay and review the webinar handout. Feel free to let us know what you think the answer is by commenting below.
Join Us for Future Segments of "Experience the Brilliance" Free Webinar Series
Our "Experience the Brilliance" Webinar Series is meant to provide educational insight to medical coders, CDI professionals, and HIM professionals for FREE on a quarterly basis, so be sure to join us next time! Follow ECLAT on LinkedIn for updates on future webinars and industry-related news.